CONTAINER TOTE AVIATION GENERAL DUTY
Transtainer Container Tote Aviation General Duty "CTAVGD" IBC Series are United Nations IMDG approved Stainless Steel  Intermediate Bulk Containers (IBC's) specifically designed for the transportation, storage and decanting of "Aviation fuel" Avgas and Jet A1.   The tanks are commonly referred to as IBCs and Totes. 
Transtainer IBC's  include mandatory safety features accredited by the United Nations IMDG certification system such as: compliant anti-splash fill tube, IMDG approved crane lifting lugs, low level sample valve at the lowest point in the tank, center fusible cap to comply with fire safety requirements, dipstick for fuel monitoring and optional pressure vacuum vent and pump suction tube. 
Transtainer Aviation IBC's  feature four top mounted BSP  sockets for ease of customisation for specific refuelling requirements.  All sockets can be modified to NPT thread or flanges. 
Features and Benefits
Usage
Capacities
Applications
UN31A/Y Approved
Field Proven Design
Reduced Contamination
Minimal Residual
20 units per 20 ft FCL (1000L) for global shipping
Delivery
Storage
Transportation
Decanting 
500 litres
1,000 litres
1,250 litres
1,500 litres
1,750 litres
2,000 litres
Flammable Liquids
Corrosive Liquids
Hazardous Liquids
Combustible Liquids  
PRODUCT EQUIPMENT AND MATERIAL DATA
The Aviation IBC Totes are available as:
The IBC with standard operation and safety equipment
The Standard IBC plus optional equipment/parts
Standard Equipment
– Discharge: 50mm ball valve c/w camlock
– Fill: 50mm compliant anti-splash fill tube c/w camlocks
– 20mm Low level sample collection point ball valve c/w camlocks
– Dipstick for storage monitoring- IMDG compliant lifting lugs
– Centre cap featuring fusible safety link
– Temperature relief 138°C
Auxiliary / Optional Equipment
– Dry break couplings
– Pumping solution including suction tube
– Pressure / vacuum vent +35kPa / -3.5kPa
Materials and Options
– Shell: 2.5 to 3mm stainless steel 304 plate (volume dependent)
– 316L stainless steel optional
– Skid assembly: 3mm stainless steel 304 plate and   sections
– Camlocks in  Stainless Steel 316
– Valves in Stainless steel 316
– Manway gasket: in Nitrile, PTFE, EPDM or Viton
PRODUCT CODES AND DIMENSIONS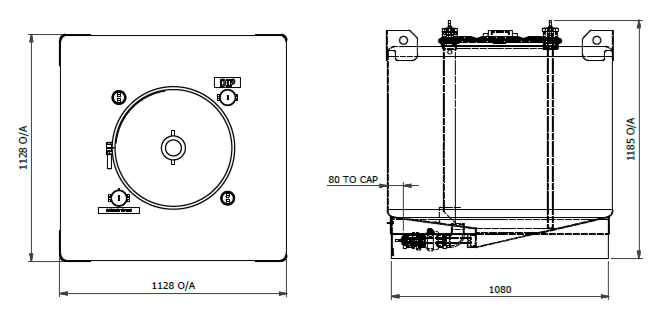 | Product Code | Capacity (L) | Length (mm) | Width (mm) | Height (mm) | Weight (kg) |
| --- | --- | --- | --- | --- | --- |
| CTAVGD500 | 500 | 1128 | 1128 | 784 | 148 |
| CTAVGD1000 | 1,000 | 1128 | 1128 | 1184 | 160 |
| CTAVGD1250 | 1,250 | 1128 | 1128 | 1384 | 202 |
| CTAVGD1500 | 1,500 | 1128 | 1128 | 1584 | 258 |
| CTAVGD1750 | 1,750 | 1128 | 1128 | 1784 | 280 |
| CTAVGD2000 | 2,000 | 1128 | 1128 | 1984 | 290 |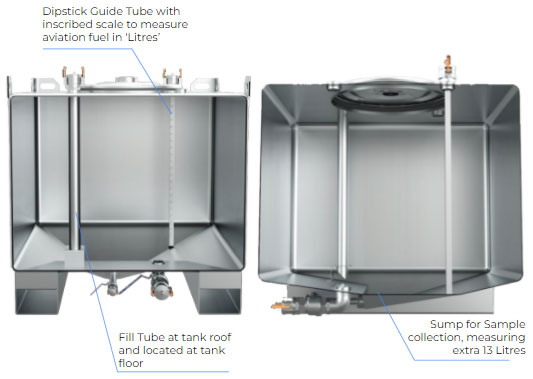 Controlled and secure discharge outlet complete with ball valve and cam lock assembly

Elbow 90° 50mm Male-Female SS316 
Hex Nipple 50mm BSP SS316
Ball Valve 50mm Female-Female SS316 
Camlock 50mm Male-Male SS316
Camlock Dust Cap 50mm
Secure and Compliant anti-splash fill tube with anti-siphon hole
Pipe 50mm threaded-end BSP SS
Anti-siphon hole
Camlock 50mm Male-Female SS316
Camlock Dust Cap 50mm SS316
Low level sample collection outlet


Bush 50mmx20mm SS316
Pipe 20mm threaded-end BSP SS304
Ball Valve 20mm Female-Female SS316 (w/ Locking Device)
Camlock 20mm Male-Male SS316
Camlock Dust Cap 20mm SS316
For fuel monitoring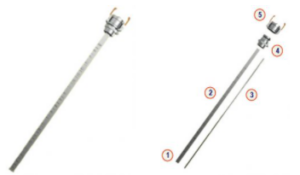 CT Dip Stick Bottom Plate SS304? welded to tank
CT Dip Stick Guide Tube with inscribed scale in Litres SS304?
CT Dip Stick SS304
Camlock 50mm Male-Male SS316
Camlock Dust Cap 50mm SS316
Discharge Outlet
Exploded Parts
Specifications
Controlled and secure discharge outlet complete with ball valve and cam lock assembly
 

Elbow 90° 50mm Male-Female SS316 
Hex Nipple 50mm BSP SS316
Ball Valve 50mm Female-Female SS316 
Camlock 50mm Male-Male SS316
Camlock Dust Cap 50mm SS316
Pressure / Vacuum Vent
Specifications
Designed to protect the tank from any over-pressure or any vacuum in excess.


Pressure Relief Valve 50mm BSP SS316 Viton® O-ring seal 35kPa/3.5kPa
Pressure settings = 35 kPa
Vacuum settings = 2.00 – 11.0 kPa
Working Temperature = -40°C to +200°C NB: temperature range vary according to O-ring material
Dry Break Coupling
Specifications
Ensures quick and safe connection of hose assemblies and loading arms to mobile and stationary tanks under pressure and with minimised liquid loss.
Both coupling parts are equipped with a flat poppet valve to control the flow.



STANAG 3756 Dry Break Fitting
50mm BSP Female SS316 Viton® O-ring seal Hose Coupling
Max. Working Pressure = 2500 kPa
Test Pressure = 3750 kPa
Min. Burst Pressure = 12500 kPa
Working Temperature = -20°C to +200°C NB: temperature range vary according to O-ring material


Desiccant Filter
Specifications
Combined Air Breather and Water Removal Filter Air flowing into the tank through the desiccant breather, initially passes through the drying material and then through an air filter element to filter out the contained dirt particles. The condition of the drying material changes as the absorbed moisture increases and the colour changes gradually from red to orange.



Drying Material: Non-toxic ZR gel granules
Air Filter Element: 3 μm
Cleaning Spray Ball
Specifications
The main purpose of rotary spray ball is to wash medium and small-shaped inner tank containers. Effective cleaning, low energy consumption, at any angle, comprehensive universal washing tank, alternative to traditional static spray because it uses low volumes of cleaning fluid at low pressure. Remove accumulated particles in the tank wall material, thus ensuring a sterile tank




Spray ball end has 360° coverage
Cleaning Radius: 1m
Thread Specification: DN15 ½" Female
Thread Diameter: 19mm
Ball Diameter: 37mm
Height: 102mm


Funnel
Specifications
IBC Funnels are great for easy and spill-free filling of intermediate bulk containers. These IBC funnels are resistant towards chemicals and are ideal for industrial use.




Dimension: 305mm x 305mm x 198mm
Material: SUS304
Sparge
Specifications





Sparging Tube Assembly OD 32mm SS316
Hex Nipple 1/2″ SS316 NPT
Half Socket 1/2″ SS316
PRESSURE MANWAY
Specifications



The pressure manway is sealed to the top of the IBC with a nitrile seal, then the clamp band is tightened until air tight. The pressure pallet performs in the same way as a vent. On the vent, a spring mechanism will open at – 3.5 kpa to allow atmospheric air to enter the tank. When the tank reaches a pressure level of 21 Kpa, the spring will open again to relieve air from the tank.

In the event of fire, the pin mechanism on the latch will fail at 138 degrees centigrade. After the failure of the pin, the hatch assembly will open and the tank will vent to the atmosphere through the open hatch.

Pressure Setting : 21 kPa
Venting capacity : 2100 l/m (Airflow)
Maximum in flow : 300 l/m (Liquid)
Pressure orifice : 1,7671 mm2 (150mm diameter)
Pressure pallet : 304 SS
Pressure gasket : Teflon
Pressure spring : 304 SS

Vacuum setting : -3.5 kPa
Vacuum capacity : 1,000 l/m (Airflow)
Maximum outflow : 250 l/m (Liquid)
Vacuum orifice : 1,500 mm2
Vacuum pallet : 304 SS
Vacuum gasket : Teflon
Vacuum spring : 304 SS

Temperature Setting : 138oC
Fusible material : Low melt alloy
Body material : 304 SS
Roll over protection : No
IBC Mixer / Agitator
Specifications



High efficiency agitators and tank mixers options available to meet the jet fuel mixing requirements and to suit the CT Aviation IBC structure. The top-entry agitator mixers incorporate advanced designs in mixing technology achieving ultimate blending & mixing conditions in open or closed top vessels.

Material: 316 stainless steel
Electric motor : 2.20 kW
Speed RPM : 1400 rpm
Protection : IP55
Rating : 415V/3PH/50HZ
Shaft Speed : 220 rpm
Shaft diameter : 25 mm
Impeller : E-400
Impeller diameter : 360 mm
Pallet Skid Unit
Specifications



Transtainer CT IBC Pallet Skids are designed to suit their Container Tote series of Intermediate Bulk Containers for transportation and handling purposes.
• Robust and durable design
• IBC lifting and handling using forklifts and pallet lifters
• Standard pallet dimensions compliant with rail/road containers
• Weather resistant to extreme temperatures, rains and UV rays
• Resistant to wear and tear for prolonged and repeated operations
 

Specifications
Material Options
5mm Stainless Steel 304 plates and sections.
5mm Stainless Steel 316 optional
Pallet Size
1106 x 1106 x 175mm high
Standard pallet size for transportation.
Fork Lift Access
Four-way fork entry
Weight Limit
______ in Litres/Gallons of IBC
Pallet Skid Unit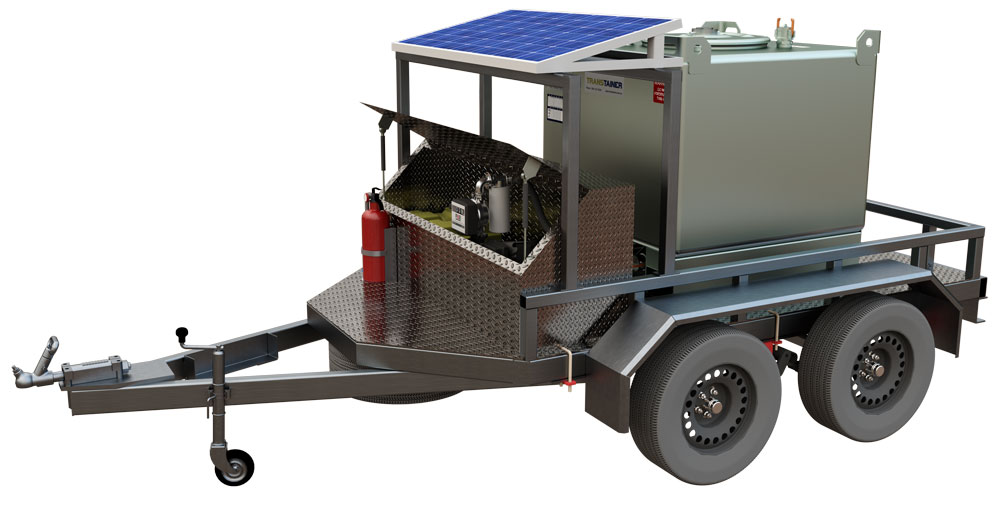 Specifications
Features

Width : 1500 Mm
Length :2480 Mm
Depth : 300 Mm
Overall Measurements
Width : 2000 Mm
Length : 3830 Mm
Height: 800mm / 900 Mm With Cage
Chain Standard : 10mm
Coupler Standard: 50mm 2000kg
Lights Standard : led Light;7pin Plug
Tires Standard: 185r 14"

Rocker roller suspension Cable disc brakes
Swing up jockey wheel Front & rear tailboards
Tie rails all around trailer Spare wheel
Sunraysia rims NEW light truck tyres
Rubber mud flaps rear of mudguards
LED tail lights
Checker plate steps between front & rear of mudguards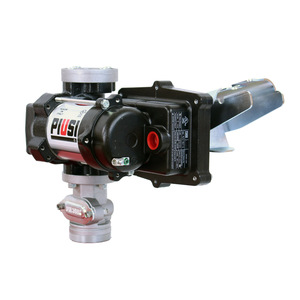 PIUSI Fuel Pumps
Specifications

PIUSI fuel pumps are transfer pumps suitable for flammable fuels such as gasoline, kerosene, and diesel. These are easy to use, versatile, and compact and adapts to your requirements.

PIUSI EX50 12V DC 250W

ATEX/IECEx directives: the pump satisfies the stringent criteria regarding product safety.

Compact and sturdy construction

Anti-noise filter EMC (electromagnetic compatibility)

Material: Cast-iron body, Sintered Steel rotor, PPS vanes, Steel shaft, Viton seal

Inlet/Outlet diameter: 25mm BSP

Flow rate: High efficiency pump able to dispense up to 50 Litres/min (13 gpm) with little voltage draw, ensuring a longer life

Fully flanged components: Pump, flow meter and filters can be fitted or replaced without the use of sealing paste, making connections quick and safe.

An integrated bypass valve; thermally protected.

In addition, PIUSI EX50 is UL / ULC approved for use in the United States / Canada markets.

Noise Level: 74 dB at 1m

Speed: 2700 rpm

Weight: 6.9 kg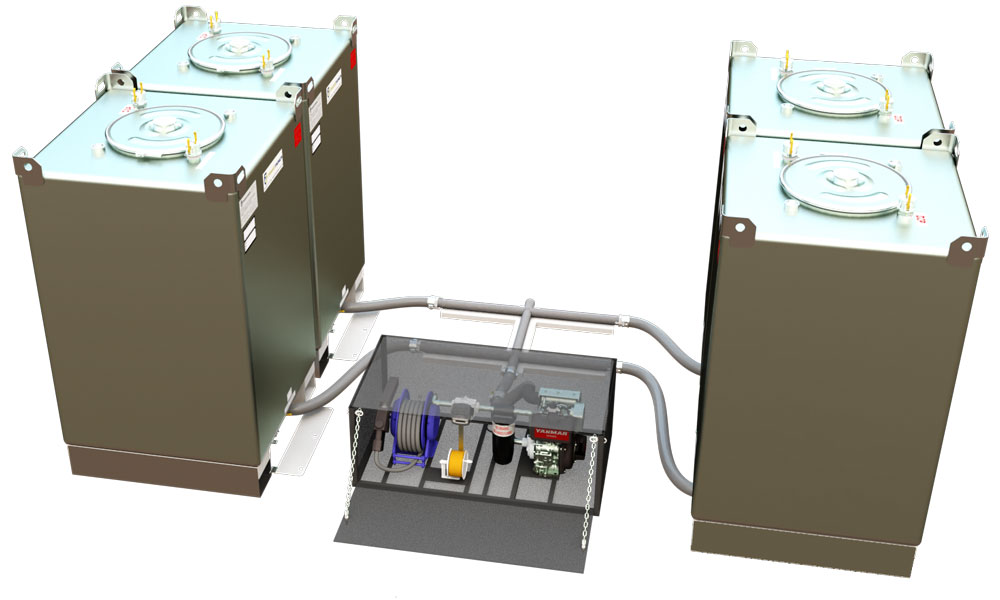 Yanmar Fuel Pumps
Specifications

The Yanmar diesel-driven pumps are strong working machines to work through heavy duty environments like mining, drilling, agricultural, marine, suburban industries, and oil & gas. The strong engine exceeds the power and environmental expectations. The pump uses Yanmar's own efficient combustion system with low fuel consumption. Great for strong fluid transfer applications.

Yanmar CI15 L48
Powered by Yanmar Diesel Engine L48. Electric start optional
Engine Horsepower: 4.8HP
Direct injection engine with easy installation
Low noise and low vibration
Material: Anodised Cast Iron casing, Bronze impeller, Silicon Carbide Mechanical seal, Viton Elastomer
Inlet/Outlet diameter: 40mm
Pumps up to 350 Litres/min
Strainer Included
Speed: 3400 rpm
Weight: 56 kg
Suction Tube
Specifications



DIN40 SCH40 Stainless Pipe

Camlock Male 2 in BSP Aluminum

Dust Cap 2 in Aluminum
Hose Reel
Specifications
Heavy duty jet fueling hose reel with spring-rewind and twin pedestal supports.

Black Nitrile synthetic rubber

Fitted with 25mm i.d. hose available in 4m-20m lengths

Operating pressure up to 3,500 kPa (500 psi)

Maximum operating temperature 80°C

25mm BSP (F) reel inlet and 25mm BSP (M) hose outlet

Wall / floor mounting bracket integral to the reel design
Cut-off Fuel Dispensing Nozzle
Specifications
The dispensing nozzle is ATEX certified, fitted with a device that automatically shuts off flow when the tank is full, preventing an overfill scenario. It is designed for a quick and clean refuelling.

Automatic cut-off

Material: Aluminium body with NBR seal

Spout diameter: 29mm

Inlet diameter: 25mm BSP

Flow rate: 140 Litres/min

Only with pumps
Fuel Dispensing Meter
Specifications
The ATEX certified flow meter has been engineered for an accurate measuring of the quantity of fluid dispensed that meets the ATEX/IECEx requirements related to the use in potentially explosive atmospheres.
Reliable and easy to install, it can be calibrated on site and simply fitted with both rigid or flexible pipes or can be put directly on pumps and tanks.
.

3-digit display

Easy to calibrate

4 flow directions

Material: Aluminium body with techno-polymer nutating disk chamber

Inlet diameter: 25mm BSP

Outlet diameter: 25mm BSP

Flow rate: 20-120 Litres/min

Maximum pressure: 3.5 Bar / 350 kPa
Fuel Tank Filter
Specifications
Fuel Tank Filter removes both water and particles out of diesel to a micron rating. This diesel storage tank filter can be installed before or after the pump, and has a spin on cartridge, which makes it easy to be replaced when it starts to get full.

.
Cannister filter: 30-micron
Inlet diameter: 25mm F BSP Flanged
Outlet diameter: 25mm F BSP Flanged
25mm-12 F UNF Filter Thread
Max. flow rate: 70 Litres/min
Suitable for diesel and petrol
Includes 1 x filter head and 2 x filter element