Transtainer 20,000L Pressurised Follower Grease Transport Storage and Dispensing Systems are composed of Transtainer "GREPF10000" Series of Pressurised Follower Large Circular Grease Tanks fitted inside a 20FT standard shipping container. These models are specifically designed by Transtainer as an engineered solution to their bulk storage, transportation and dispensing of NLGI#3 grease and lower grades. The grease units housed inside the shipping container are accessible through side doors for operational activities and sit on channel mount which serves as guides to remove the tanks out of the shipping container for maintenance purposes. Other sizes of the "GREPF" series are also available to have flexibility of choice including custom designs and material options in Mild Steel and Stainless Steel.
The effective discharging mechanism of the individual units provides high purge rates. Pump priming is assisted via the use of a pressurised follower plate operating at 35kPa. Transtainer's Grease Containers have evolved over the years after significant market input into the design, hence the products are field-proven grease dispensing solutions for existing clientele and prospective customers. The units have become the grease container of choice for many customers due to high reliability, low-cost operations, cost-effective transportation and high purge rates of viscous materials.
Features and Benefits
Usage
Capacities
Applications

Bulk Storage and Transportation

Minimal Residual

Reduced Contamination

Field Proven Design

Delivery

Storage

Transportation

 

20,000 litres

(2 x 10,000 litres)

Grease

Ink

Adhesives

Pastes
PRODUCT EQUIPMENT AND MATERIAL DATA
Standard Equipment

– 2 of GREPF10000 internal tanks secured in a side opening 20 FT shipping container

Each inner unit is equipped with:

– Fill / Discharge Point: 80mm ball valve

– Coupling: 80mm camlock adapter and cap

– Level Indicator: Sight gauge with E,1/4, 1/2, 3/4, F level increments

– Vents: Pressure 35 kPa, Vacuum -3.5kPa

– Air Line Fitting: 10mm BSP (F) socket

– Bottom Lift: Two-way forklift entry

– Remote air line

– Air regulator and gauge

– Aluminium equipment information panel

– All external surfaces grit blasted primed and top coated

Auxiliary / Optional Equipment

– Pump spear adapter

– Grease supply manifolds

– Electronic switching

– Corporate colours

– GPS position tracking management

– Remote volume management, pressure pallet or ultrasonic

Materials and Options

– Shell: 3mm mild steel black sheet

     Shell thickness varies with container height

     304 stainless steel optional

– Lid: 5mm mild steel black sheet

– Skid assembly: 3-8mm mild steel black sheet and sections

– Skid Feet: 10mm mild steel black sheet and sections

– Follower Plate: 5mm mild steel black sheet

– Lid & Vent Gaskets: Rubber extrusion

– Fill / Discharge Point: 100mm ball valve (subject to pump specs)

– Camlocks: Aluminium

– Stainless Steel equipment information panel

– Loadcell Shipping Container Scale: for weighing grease during filling and decanting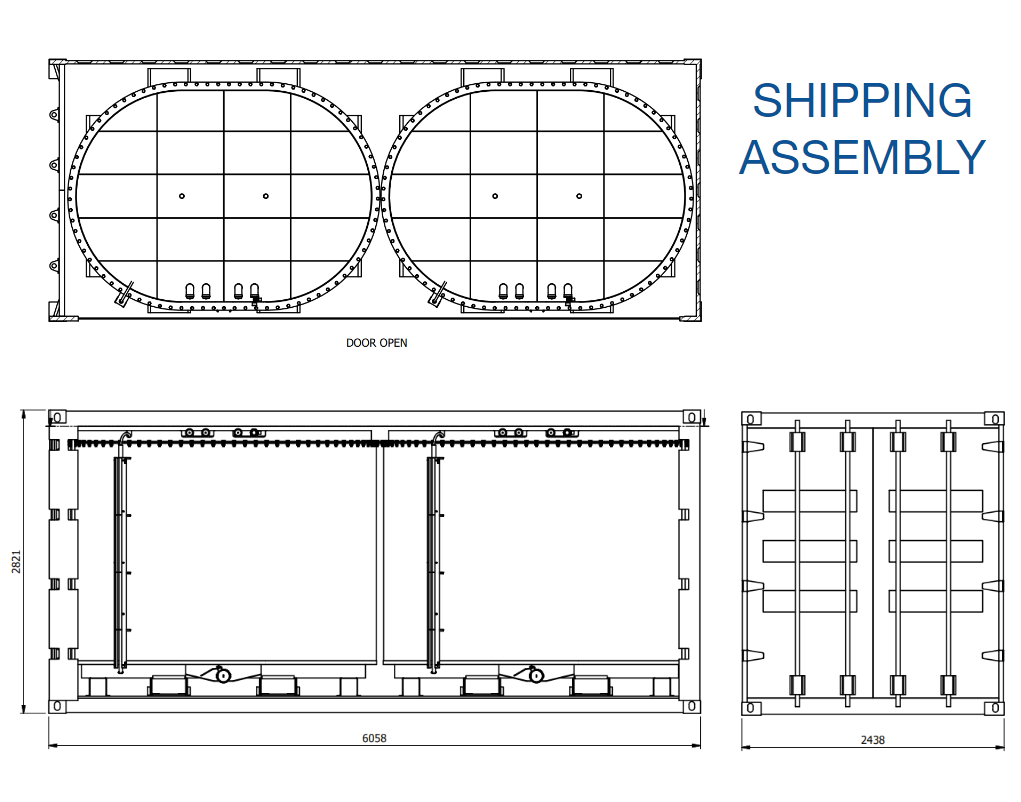 Product Code
Capacity
Length
Width
Height
(L)
(mm)
(mm)
(mm)
GREPF20000FCL
20,000
**
**
**
2 x GREPF10000
6,058
2,438
2,821
** 20FT Standard Shipping Container Dimensions
Weight (kg)
20Ft Shipping
2 of
Steel
Total
Container
GREPF10000
Sections
3,000
3,400
250
6,650
approx.
approx.
approx.
PRODUCT MAIN FEATURES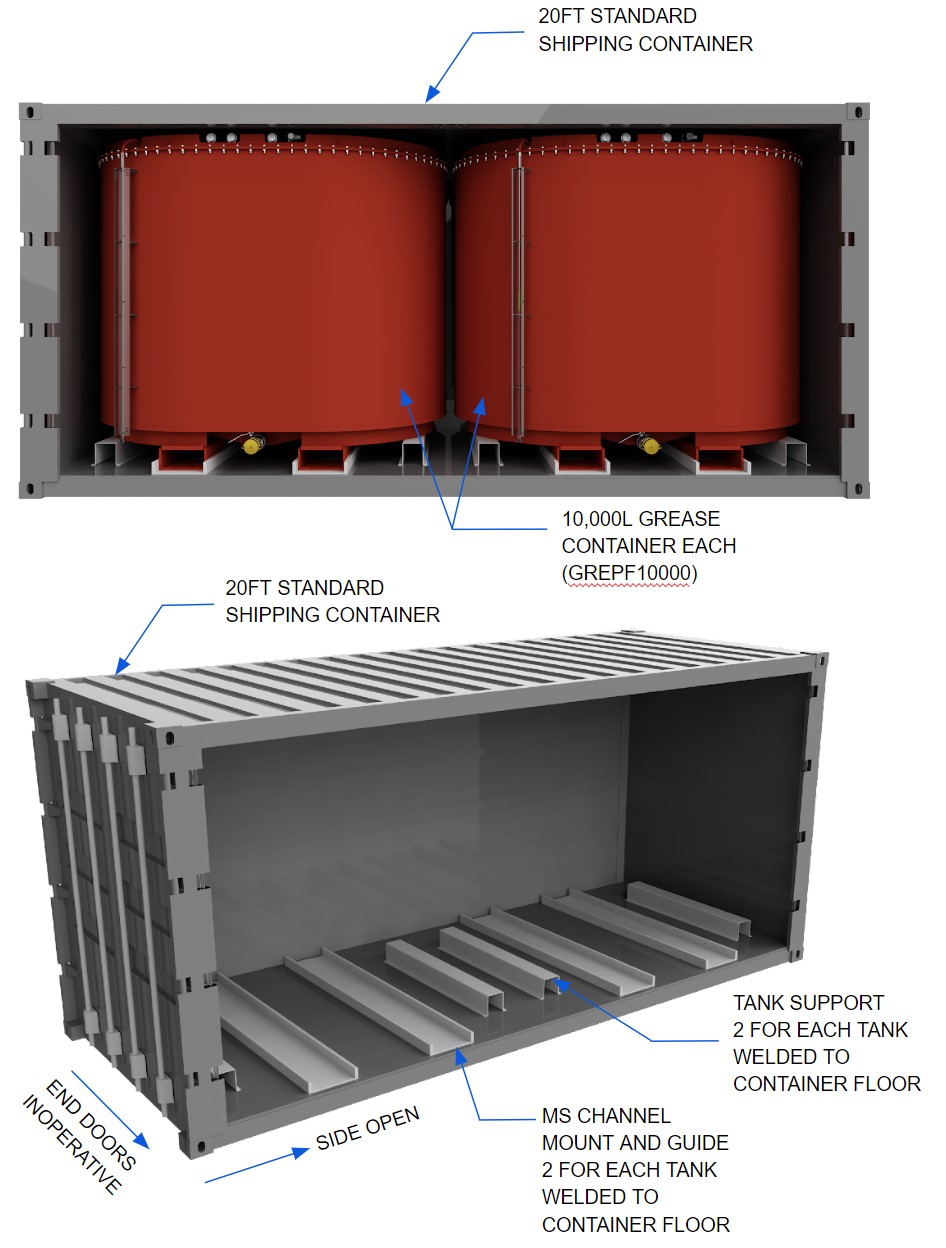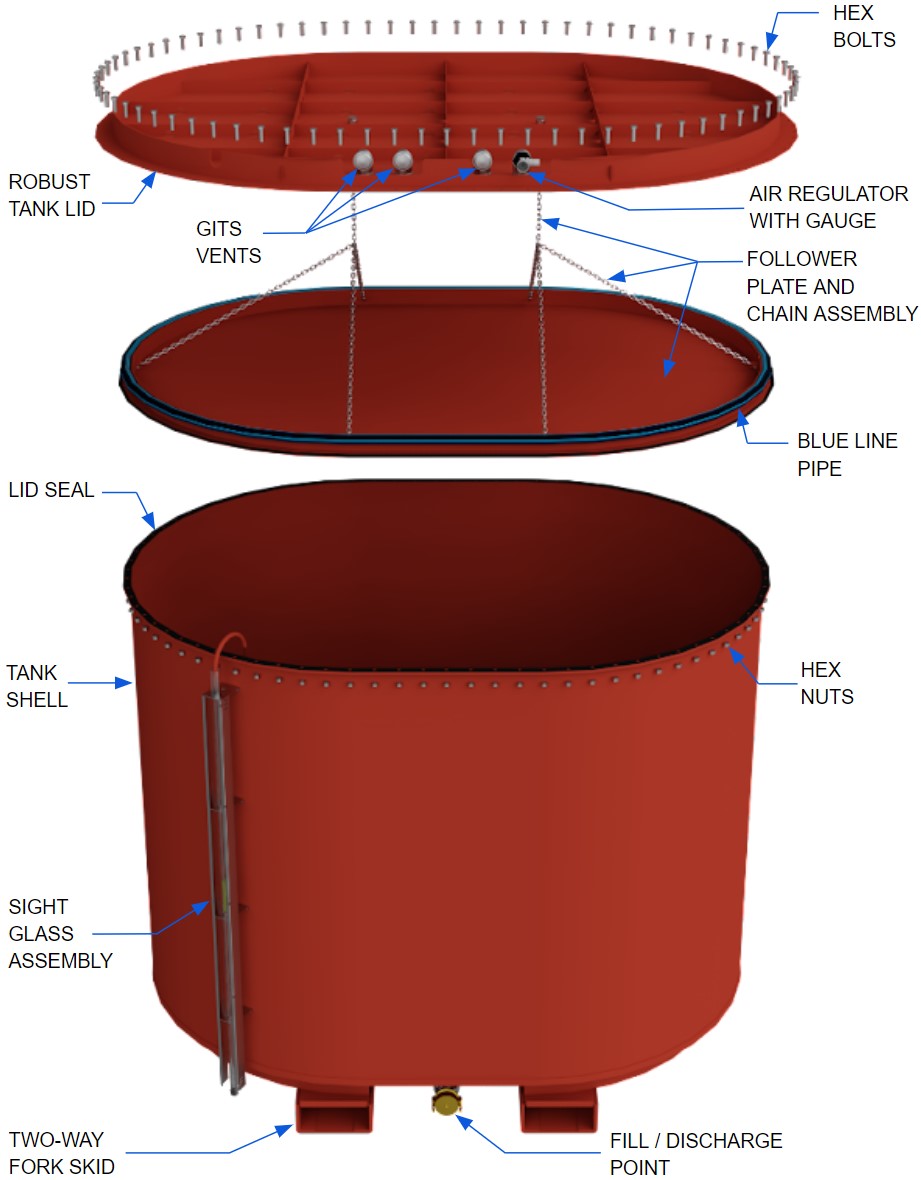 Related Products