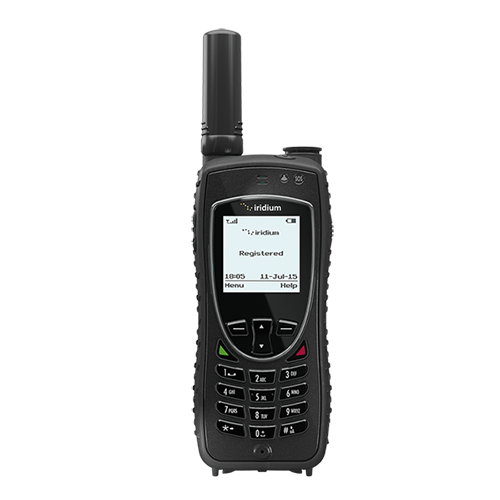 Features
Base Features
Small size
Intuitive user interface
Rain, shock, and dust resistance
Enhanced SMS and Email messaging capability
Supports Short Burst Data
Integrated speakerphone
Headset and hands-free capability
Internally stowed antenna
Mini-USB data port
Reliable two-way global coverage
Calling Features
Integrated speakerphone
Two-way SMS and short email capability
SBD enabled messaging
Pre-programmable International Access code (leading +)
Mailbox for voice, numeric, and text messages
Select-able ring and alert tones (8 choices)
Enhanced Features
Tough military-grade handset
High ingress protection (IP) IP65
Supports online tracking
Programmable
Smallest Iridium phone ever
Diamond treaded, tapered grip for in-hand ergonomics
Iridium Extreme Features
GPS – Integrated GNSS receiver for Location-based services
Online Tracking – integrated tracking
Diverse – Customized solutions enabled for diverse markets
SOS Button – Built-in SOS button.
S.E.N.D. – certified Search and Rescue Regulating Body (RTCM)
Truly Worldwide – Reliable two-way global coverage
Package
Iridium Extreme 9575 Satellite Phone Basic Kit Includes:
Iridium Extreme 9575 Satellite Phone
Rechargeable Lithium-Ion Battery
AC Travel Charger
International Plug Kit
DC Car Charger
Leather Holster
USB Data Cable
Hands-Free Headset
USB and Power Adapter
User Guide (CD)
Description
The Iridium Extreme satellite phone is the toughest handset ever from the only company that offers global, reliable communications. The Extreme sat phone is engineered with more features and more accessories than any other satellite phone on the market. Iridium Extreme puts more innovative capability – and more ways to connect than ever before – into the hands of people everywhere.
Integrated Tracking
Iridium Extreme offers a location-based solution providing real-time tracking to increase business efficiencies, improve military and emergency response, track critical assets or simply keep family
and friends up-to-date.
Access users through on-demand tracking
Monitor employees en route through position updates and geo-fencing
Use scheduled check-ins to instruct daily missions
Let family and friends track your location online through social network updates
Ensure the safety of remote personnel
Disable tracking on demand for stealth operations
Iridium Extreme allows you to send an SMS text message with your exact
location coordinates to anyone, from anywhere on the surface of the planet
SOS Button
Iridium Extreme integrates a programmable, GPS-enabled, one-touch SOS button. With a Satellite Emergency Notification Device (SEND) compliant SOS button design, Iridium Extreme will alert your programmed contact of your location and will help create a 2-way connection to assist in the response.
Emergencies
With one push, you can access 24/7 emergency assistance anywhere in the world by registering for GEOS Emergency Monitoring through Travel Safety Group Limited.
Military-Grade Toughness
It may be our smallest satellite phone, but Iridium Extreme is big on toughness and is built to take a beating. It is ruggedly engineered to support the toughest, highest usage customers of satellite phone communications in harsh conditions, everywhere.
Military-grade 810F durability
Ingress Protection rating of IP65
Built dust-proof, shock-resistant, and jet-water resistant. As well as GPS positioning, online
tracking
Includes a speakerphone and wind-resistant microphone
A diamond tread, tapered grip gives it superior in-hand ergonomics
Technical Specifications
Display
200 character illuminated graphic display
Volume, signal, and battery strength meters
Illuminated weather-resistant keypad
Dimensions
140 mm (L) x 60 mm (W) x 27 mm (D)
Weight
Durability
Military-grade ruggedness (MIL-STD 810F)
Ingress Protection (IP65)
Included
100-entry internal phonebook, with capacity for multiple phone numbers, email addresses, and notes
Call history retains received, missed, and dialed calls
Battery
Up to 30 hours of standby time
Up to 4 hours of talk time
Data Network
Usage Control Features
User-configurable call timers to manage costs
Keypad lock and PIN lock for additional security
Related Products