Sale!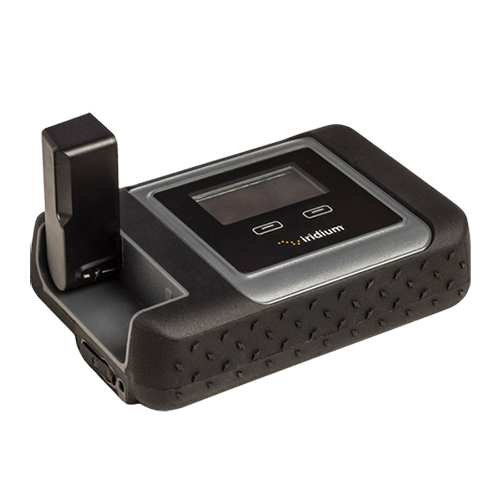 Features
Flexible
The Wi-Fi access point (not for browsing the internet)
Special App API for developers
Robust accessory platform
Easy to Use
Stable, lay-flat design
Flip-up antenna
Built-in menu/status display
Support
Military-grade (MIL-STD 810F) durability
Ingress Protection (IP) rating of IP65
Dust-proof, shock resistant, and jet-water resistant
Package
Iridium GO! Satellite Hotspot Includes:
Iridium GO Satellite Hotspot
Battery
AC/DC Charger
Micro USB Cable
Instruction Manual
Description
Iridium GO! is unlike anything the world has seen before. Connected to the Iridium satellite network, this compact, rugged, and portable satellite adapter allows your iOS or Android smartphone to place voice calls and send text messages over the Iridium satellite network from anywhere to anywhere in the world. No roaming charges.
Iridium Mail & Limited Web access

Connect your smartphone with the Iridium GO anywhere! Compatible with Apple and Android phones. You can have the ability to use apps optimized for voice calls, SMS, email, weather monitoring, and more. Also includes a 100-foot  radius Wi-Fi connection for up to 5 mobile devices.
Iridium GO!
Iridium GO! status bar
Iridium GO! battery life
Send quick GPS or check-in message
Configure settings
Posting updates to your social networks. Like sending a Twitter post
Initiate voice call
Set-up Wi-Fi data call
Activate Emergency SOS
Special Iridium Mail & Web APPs

Send/receive emails
Retrieve emails from external accounts
Posting updates to your social networks. Like posting pictures on your Facebook wall
Access weather forecast
Compress and send photos
Apps
Iridium GO!® apps are designed specifically for Iridium GO!® by Iridium and third-party developers and are available for a wide variety of platforms (PC, Mac, iOS, Android and others). Apps are designed by utilizing the Iridium GO! Software Development Kit.
Technical Specifications
Dimensions
Weight
10.14 ounces (0.65 lbs, or 295 grams)
Durability
MIL-STD-810F
Ingress Protection (IP65)
Battery
7 hours talk, 16 hours standby
Data Network
At 2.4 Kilobits per second, the Iridium Go! is not a solution to those looking for a connection for normal Internet use. Email attachments of any size will take minutes or hours to transfer, and a single webpage would take 5 to 10 minutes to load. Connectivity to the Internet with the Iridium Go should be considered an emergency backup solution. Having more than one connected device would create an even worse bottleneck (it allows up to 5 connected devices). The good news is that applications like SMS text messaging and text-only email messages (using their email app), use far less data, and are the real shining heroes here. Let's not forget it's also capable of making/receiving a voice call from anywhere the sky can be seen.
Usage Control Features
Smartphone connectivity must go through specialized Email or Internet Apps
Firewall controls to avoid runaway data charges
Interfaces
Wi-Fi Range is 100′ or 30.5 meters for up to 5 devices
Related Products