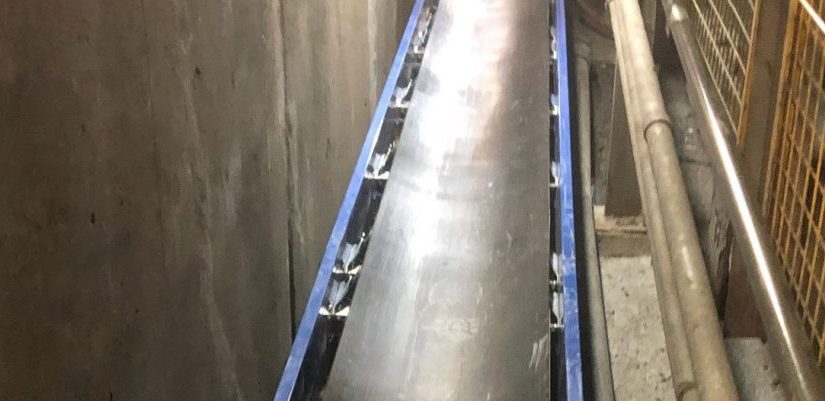 When a surge pile of 200 tonnes of mined material collapsed in a mine in Tasmania, the existing modular conveyor system had to be replaced as quickly as possible.
Fenner Dunlop was the only company in the region that could guarantee quick delivery and installation of a 450mm wide and 30m long modular-built belt conveyor to the iron ore mine.
Designed for the quarrying and mining industries, the new Modulaveyor is available in widths of 350mm, 450mm, 600mm and 750mm and features a flat and trough profile with belt speed and power selection to suit the application with a plain or cleated conveyor belt.
The Modulaveyor conveyor design is based on Fenner Dunlop's 50-year history in the sector. It has designed a unique system that allows for a quick turnaround with different lengths, widths, motor and speed options.
Because of its modular design, the Modulaveyor can be installed by using a manual handling method if necessary.
The conveyor for the iron ore operation was manually handled into position down the tunnel and fastened together in a number of hours, as the use of a crane or lifting was just not an option. Due to restricted access, a traditional conveyor design would not have worked in this situation.
The Modulaveyor was assembled and dispatched in only 48 hours, and it was already on-site and hard at work by the end
of the same week.
Fenner Dunlop was able to meet the client's expectations on a number of levels. At the local level, Statewide Belting (TAS) was able to visit the site quickly to access the issue and offer a quick solution.
At the branch level, Belle Banne Conveyor Services able to meet clients quick turnaround requirement through great stock volume and staff able to work around the clock to build, assemble and package.
At a national level, Fenner Dunlop's buying power enables it to offer a cost effective solution in all areas of material handling.
"It's with great pride we can offer our customers a quick and reliable solution so they can get back to operations with minimal downtime and impact on productivity," said Belle Banne project manager, Grant Potter.
"The modulaveyor unique design enables us to meet any client specification demands on a short deadline. Don't underestimate the power of this conveyor as it will handle more than 200 tonne per hour with ease," he said.
The Modulaveyor system also allows variable speed drives (VSD), safety lanyards and fully-customisable head and tail sections to incorporate loading options and belt cleaning solutions. A triple labyrinth seal on all rollers is standard on the Modulaveyors, which has become industry standard in the quarry sector. Roller shells are UHMWPE, to minimise the risk of belt damage. Moreover, stainless steel shafts and bearings are available on request.
The outcome of the project in Tasmania demonstrates Fenner Dunlop's ability to deliver head-to-tail engineered conveyor solutions, in this case through subsidiaries Statewide Belting Service (TAS) and Belle Banne Conveyor Services (VIC).
The Modulaveyor has a wide range of applications including coal, concrete, recycling, grain, sand, and water treatment, to name a few.