After providing speciality lubricants to numerous sites in the Hunter Valley for over 10 years, Techenomics has welcomed the arrival of a P&H 4100 XPC shovel, recently commissioned utilising its OnSpec gear lube and oil.
Lubrication for new P&H 4100 XPC
P&H 4100 XPC commissioned with Techenomics' OnSpec lubricants.
The shovel is fitted with a 2,000 kilogram tank fitted with five Lincoln grease pumps to lubricate the equipment throughout operation. OnSpec Open Gear Lube-M is premium lithium soap thickened lubricant that is designed primarily to provide protection for open gears, bushings, rollers and rails and dipper stick handles. It is also suitable for use on wire ropes and meets P&H specification 464.
According to Techenomics, the product has been formulated with advanced extreme pressure (EP)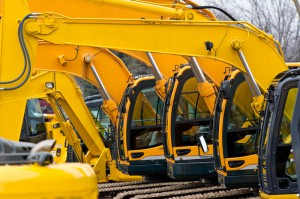 and anti-wear (AW) additives, excellent oxidisation and thermal stability, rust and corrosion inhibitors, is lead free and contains no chlorinated solvents. It contains selected polymers to provide extra adhesive strength and resistance to water washout in the harshest conditions found in mining and other industries.
The presence of molybdenum disulphide (Moly) at 2.5 wt per cent further strengthens the wear protection properties particularly for sliding and shock load conditions. The shovel will resist throw off and maintain a tenacious lubricant film to protect gear teeth and other metal parts. It has good low temperature pumpability and will continue to perform in high temperature operating conditions.
The OnSpec 680 Gear Oil will be used in the propel, hoist, crowd and front and rear swings. The gear oil is designed for lubrication of enclosed gear sets operating under various conditions that provide exceptional wear and friction properties. The shovel will hold approximately 3,000 litres of 680 gear oil within the compartments. This OnSpec specialty lubricant also meets P&H specification 497.
The P&H 4100XPC provides a 115 ton (104.3 metric ton) nominal payload capacity specifically designed to operate in mines for high production loading of 240 ton to 400 ton (218 metric ton to 363 metric ton) haul trucks and larger. The 4100XPC is a preferred ultra-class shovel choice for high production mines around the world.
Source from here